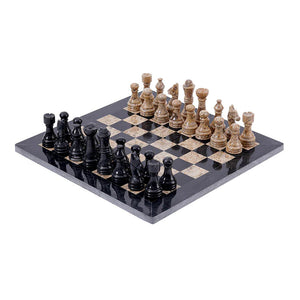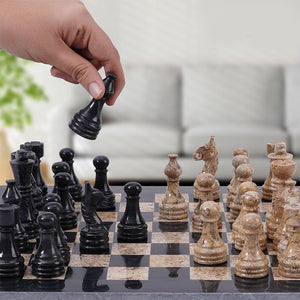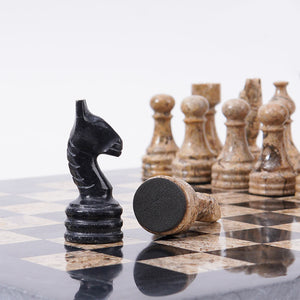 Classic Marble 30cm Chess Set - Black & Coral
/count/ sold in last /time/ hours.
---
---
---
About This Item
WHAT'S INCLUDED: 1 Chess Board & 32 chess figures; 2 Kings, 2 Queens, 4 Knights, 4 Bishops, 4 Rooks, and 16 Pawns. Comes along with Secure & Fragile Packaging.
MATERIAL: This chess set is fully handmade from high-quality marble onyx. Chess Board & Chess Figures are fully hand polished.
SIZE: Board Size: 30cm. King Measures: 6.985 cm. Queen: 6.35 cm. Bishop: 5.715 cm. Knight: 5.715 cm. Rook: 5.715 cm. Pawns: 5.08 cm. The Chess Board comes along with an attached felt bottom to avoid scratches. Separate felt bottoms packet for all chess figures.
FOR EVERYONE: It is the best board game for people of any age group from Kids to Adults.
MULTI-PURPOSE: This chess set can be an exciting gift and also to be used as a home décor item.
---
Your happiness is our primary focus at Marbliss. It implies that we always stand by what we sell. Contact us at info@marbliss.com.au within 30 days of purchase if there is a problem with any item you purchased from us, and we will resolve it. Your order is fully protected by our "Happiness Guaranteed" policy because we want you to be completely satisfied with your purchase.
The Black & Fossil Coral Chess Set is a work of art that showcases the beauty and elegance of natural materials. The use of fossil coral in the construction of the chess board and pieces gives the set a unique and distinctive appearance that stands out from other traditional chess sets. Fossil coral is a rare and ancient material that has been preserved for millions of years, making each set one-of-a-kind. The black and coral pieces are meticulously crafted from high-quality materials, and the intricate design of each piece showcases the skill and craftsmanship of the artisans who created them. The use of natural materials in the Black & Fossil Coral Chess Set adds a touch of luxury and sophistication to the game, elevating it beyond just a simple pastime. It's a piece of functional art that will impress and inspire anyone who sees it. The Black & Fossil Coral Chess Set is a testament to the beauty and power of nature and the skill and ingenuity of human craftsmanship.
Natural Materials and the Black & Fossil Coral Chess Set
The use of natural materials in the construction of the Black & Fossil Coral Chess Set is a testament to the beauty and versatility of the world around us. The fossil coral stone used to craft the board and pieces is a rare and ancient material that has been preserved over time, making each set a unique work of art. In addition to its aesthetic value, the use of natural materials in the Black & Fossil Coral Chess Set is also environmentally sustainable, promoting the use of renewable resources and reducing the reliance on synthetic materials. The craftsmanship and attention to detail that went into the creation of each piece is also a reflection of the value placed on skilled labor and traditional techniques. Overall, the use of natural materials in the Black & Fossil Coral Chess Set adds depth and meaning to the game, making it not just a game of strategy and skill, but also a celebration of the natural world and the craftsmanship of human hands. Our other expert craftsmanship's; Coral & Red, Black & Golden, White & Black etc..
Please read the below facts about natural marble carefully so you an idea of what to expect.
Marble products may have visible not-so-deep cracks and pores on them. These cracks and pores are not to be considered as a damage because it is one of many characteristic of marble stone. We do check our products for any damages and these small not-so-deep cracks and pores don't affect the usage of the product in any way.
Marble products varies so much in color and veins on them. Having two identical pieces of same product is almost impossible and for that reason we cannot promise to deliver the exact look alike product shown in images. We have tried to showcase the variation by adding a batch image of each product in a product detailed page, wherever possible, so customers can build their expectations accordingly.
We recommend customers to read and follow the below guidelines to get the maximum benefit out of our products:

Marble products contain natural pores as part of its characteristics that may absorb liquids and confine them, if left on the surface for a too long. So it is always advisable to keep marble products clean and dry to avoid having stains.

Marble products can be cleaned using dish-washing liquid or detergent with warm water and pat dry immediately using a soft cloth.

Marble products must be carried with care. Due to its fragile nature, dropping or banging them on the surface could lead to deep cracks and could possibly end up broken.

Marble products are heat-resistant, still it is better to take extra care and avoid putting very hot items directly onto the product. Sudden heat may at times lead to cracks on the surface of the product.


RELATED PRODUCTS
you may also like
RECENTLY VIEWED
grab before it's gone